Hall Hire
---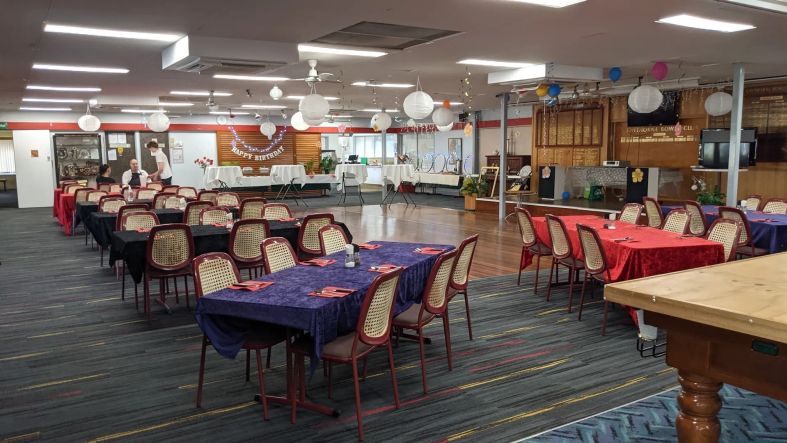 The hall can seat approximately 120 people. Hall hire is $300 for a maximum of 6 hours between the hours of 8 am and 12 midnight.
A typical function is usually held between 7 pm and 12 midnight – set up times can be arranged. Hall hire only with no bar facilities is $50 per hour with 4 hours minimum hire.
CONFIRMATION
---
A deposit of $300 is payable as a holding fee to confirm the booking 7 days after the initial enquiry.
This will become the hall hire charge 3 weeks before the booking date.
Deposit money will not be refunded if notification of cancellation is not received 2 weeks before the function date.
BOND
---
A bond of $300 is required 2 weeks before the function date. This is to cover any damages\cleaning costs which may be required post function. An hourly rate of $50 will be deducted for cleaning if not done by the hirer.
Otherwise the bond will be returned following the function after satisfactory inspection of the hall and\or kitchen.
CLEANING
---
This should be carried out either after the function, or the following morning by negotiation. The hirer must leave the premises as found, which includes the removal of all decorations\adhesive tapes\kitchen rubbish. The hall should be swept and carpets vacuumed with the equipment provided. A charge of $50 per hour deduction from the bond paid and held by the club will be withheld by the club if the premises are not clean. This particularly includes grease and food spills in the ovens.
ALCOHOL
---
Limited club license from 10 am to 12 midnight. All alcohol and soft drinks must be supplied by the club. No alcohol or drugs should be brought onto the premises. No alcohol should leave the premises.
DAMAGES
---
The Hirer assumes all responsibility for any damages caused during the function, which should be conducted in an orderly manner in compliance with the rules of management and within all applicable laws.
The Gaythorne Bowls management holds the right to refuse entry, or remove any, or all, guests who behave in a manner which management deems to be unfit.
While all care is taken by the Gaythorne Bowls management to protect the property of its guests, no responsibility will be taken for the damage, or loss of property, left in the facility prior, during, or after the function.
GAYTHORNE BOWLS WOULD LIKE TO THANK YOU FOR YOUR BUSINESS AND HOPE THAT YOUR EVENT IS AN ENJOYABLE ONE FOR YOU AND YOUR GUESTS