Stuart Gorton and The Special Olympics
Bocce and Lawn bowls is a mix that could lead to international Gold Medals for local lad Stuart Gorton.
Stuart has been recently selected to represent Australia in the sport of Bocce at the Special Olympics World Games to be held in Germany in 2023.
Stuart has been playing Bocce since 2008 and has represented Queensland at the National Games level four times.
Stuart plays Bocce for the Brisbane Falcons Group at Newmarket Bocce.
He has also represented Australia twice once at the Asia Pacific Games in 2013 and in Los Angeles at the Special Olympics World Games in 2015. Each time bringing home gold medals.
When not playing Bocce Stuart likes to play Lawn Bowls at Gaythorne Bowls Club where he sometimes does extra training for Bocce.
Stuart is a full-time member at Gaythorne and is also is a member of the support group that looks after Barefoot bowls events and in his spare time helps behind the Bar.
At the most recent Australia Special Olympics competition held in Launceston Tasmania Stuart won three gold medals for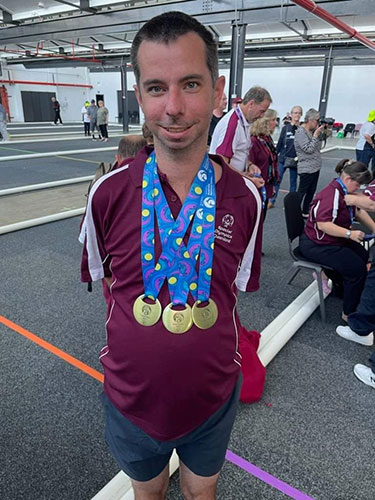 Well Done Stuart
If you would like more information about the Special Olympics please go to:
https://www.specialolympics.com.au/index.php/brisbane