The Saga of No 1 Green 2022
There comes a time in the life of every Lawn Bowling green when the Green Keeper declares "The Green must come out".
This statement had just been made by Graham at Gaythorne about the Number 1 green a couple of weeks ago.
There was a collective intake of breath from bowlers as they know what that meant, they will be required to perform tasks outside their normal roles at the club to assist in the process.
Step One is the inevitable Notice which appears on the Club notice board asking for volunteers on the two dates.
Date One. Sunday 6th November

To assist in the scarifying process. Or the removal of the thatch layer. This means the removal of the thatch with a fancy Machine and disposing of the grass in wheelbarrows and disposal of it. Hard work.

Date Two. Friday 11th November

To provide the muscle to Move special sand from a huge pile with the inevitable wheelbarrows and spread it on the green in heaps and then distribute it evenly over the green.
This is in the Future for this post.
Step one went OK and the huge amount of old thatch was made to disappear. See the photo below showing the Naked green with the workers patiently scraping the surplus thatch ready to load into wheelbarrows.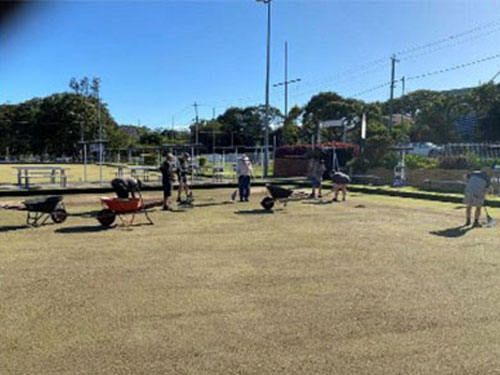 Thanks to all those people who gave up their time and sweat to complete stage one of the Job. See you on Friday at 5:00 am. Cannot provide all the names of our helpers but I would like to thank Graham for organising Sunday and repairing the drive belts on the scarifying machine so we could continue to work.
I have also included some more Photos of the Sunday operation see below.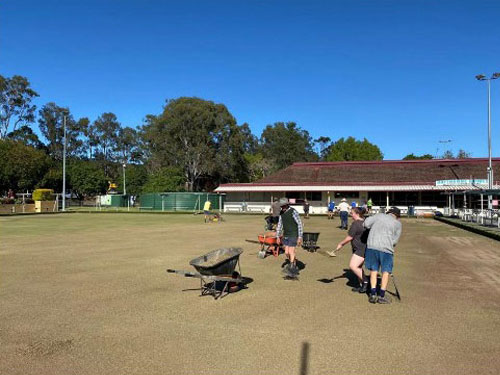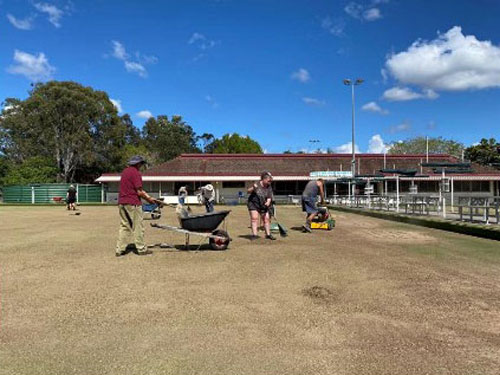 ---